Great news for theatres, museums and cultural institutions, with the Government's pledge of help to the tune of £1.57 billion this week.
But! This isn't a theatre blog, and you didn't come here for politics or a budget analysis. I swear, my train of thought is heading towards a marketing destination. Stay aboard with me.
Selfishly, I am over the moon that theatres are getting support. I absolutely love going to the theatre. Aside from chocolate, it's one of the few luxuries in my life. Not that the theatre is only for the luxuriously endowed. Though that's another blog for another place, and I digress.
What I'd like to do, is walk you through how something as simple as booking theatre tickets is actually a big investment in an organisation, and how that resembles the investment you make in your B2B content.
Not convinced by the segue? Well, with 40% of marketers saying that they're continuing to push campaigns back, perhaps a quirky viewpoint can offer something different.[i]
What's small, made of paper and generates thousands of sales?
Let's think about the journey it takes to get to the theatre. It goes on for weeks, if not months:
Brochure arrives in the post

I check out events on the website

Book tickets (kerching)

Go to the venue

Buy a drink (kerching)

Mill about till show time, pick up leaflets for other events

Intermission: ice cream, check. Mine's actually a lemon sorbet or a mint choc chip, if you're offering. Nothing if not controversial in my choice of creamed, frozen sugar (kerching)

Peruse posters for upcoming productions

Performance resumes and finishes

Buy more drinks (don't judge me) (kerching)

Beer-mat plan of what shows mates and me'll see next

Stuff handfuls of leaflets I've picked up in my bag

On my merry way
That seems like a lot, doesn't it? That's the paper trail for one person on one theatre trip. One show. In any given season brochure there are dozens of performances listed. That equates to at least three other trips, for me, in a 4 to 6-month period.
And there's more.
Because now I'm overrun with flyers, productions to research, tickets to buy. Just being in the theatre has fuelled my intention to come back again. And when I visit the website to book a show that caught my attention in the brochure weeks ago, guess what? I'll trip over even more exciting stuff to check out.
From getting me onto their mailing list once, a long time ago, the theatre has wrung from me a small fortune in ticket fees, bar sales, tuck-shop coin and repeat visits - with more lined up before I've even left the building.
You can see where I'm going, can't you?
Investment in a seemingly insignificant corner of your marketing activity (getting me to agree to receive the brochure) pays a return. And again. And again and again and again. For – quite literally – years. I'm no finance pro, but that looks to me like a seriously smart investment.
The link to B2B content
Ok, ok, I better get real here. Let's wind it back to your content, to your marketing efforts.
Things are a little unusual right now, but think about how you might typically get in contact with potential clients. Let's say it goes something like this:
Meet someone on your stand at a trade show

Give them your business card, leaflets, maybe tee up a call or meeting

They attend your talk at the trade show

You bump into them at lunch

The next day, they connect with you on LinkedIn

They check out your website, look at your blog

Ahead of your call they download your latest whitepaper

They sign up for your webinar next week

And when you talk to them, they're already engaged...

…so when you do get that deal over the line… (KERCHING)
Your business is a professional organisation. Unlike the theatre, you can't simply open an on-premises sweet shop and charge an exorbitant amount for chocolate, maxing out those opportunities for immediate cross-sales. But the breadcrumb effect is as important.
Just like the theatre maximises every opportunity to enhance the virtuous circle kick-started by the brochure (posters, flyers, food and beverage, programmes), so too can you. Yes, there are fewer opportunities to make quick cash through consumer goods as a B2B outfit. But you're not selling knick-knacks, confectionary or frivolity. So holding people's attention, giving them a reason to keep coming back to you is even more important. Because once you do land that high-value contract, you can then start building your own virtuous circle, this time with the flow of cash (not only attention) at stake.
Errrr... there's the small matter of a global pandemic…
You're absolutely right. And to hackney an annoying phrase further, the new normal looks... well, slightly different.
The principle is the same with an online event as an event that happens in person. If you want a brilliant example of this, Google 'Nudgestock 2020'. Ogilvy Consulting put on an incredible event that spanned the globe, broadcasting speakers live for 14 hours. The day kicked off on the east coast of Australia, worked its way across the planet via Asia and Europe, and closed on the west coast of the United States. The event was supposed to be held in Margate. Digitising it truly made it a global happening, no doubt leaving a trail of breadcrumbs that looks like a clown's got hold of a confetti cannon.
All it takes is for you to create something - that one magic bit of content that gets people interested – and you can begin a conversation that lasts as long as you're interesting and valuable to your audience. It doesn't have to be fancy. It doesn't have to be a planet-busting, boundary-breaking digital conference graced by the world's leading thinkers. It can be as straightforward as an invite to join your mailing list. Perhaps it's a well-worded email asking a prospect to attend your webinar. Maybe you shoot that LinkedIn connection you've been meaning to approach a simple note: 'I saw this and thought of you'.
Sometimes the very best relationships come from the humblest of beginnings. The tiny seed that blooms unexpectedly into lifelong respect and mutual understanding. The season brochure that lands on my doormat once, and turns into more theatre trips than I can count.
As you sow, so may you reap
You have to take a little risk. To put a little in to get something out. Don't think too big picture to begin, don't start mapping your customer's 10-year journey. Keep it simple or else you'll get overwhelmed. What one piece of content, what one marketing asset, could you invest in to encourage someone to come into your world? A blinder of a blog, an insightful case study, a super helpful eBook, perhaps?
Think about it.
Your words matter,
Laura
---
You caught me snoozing…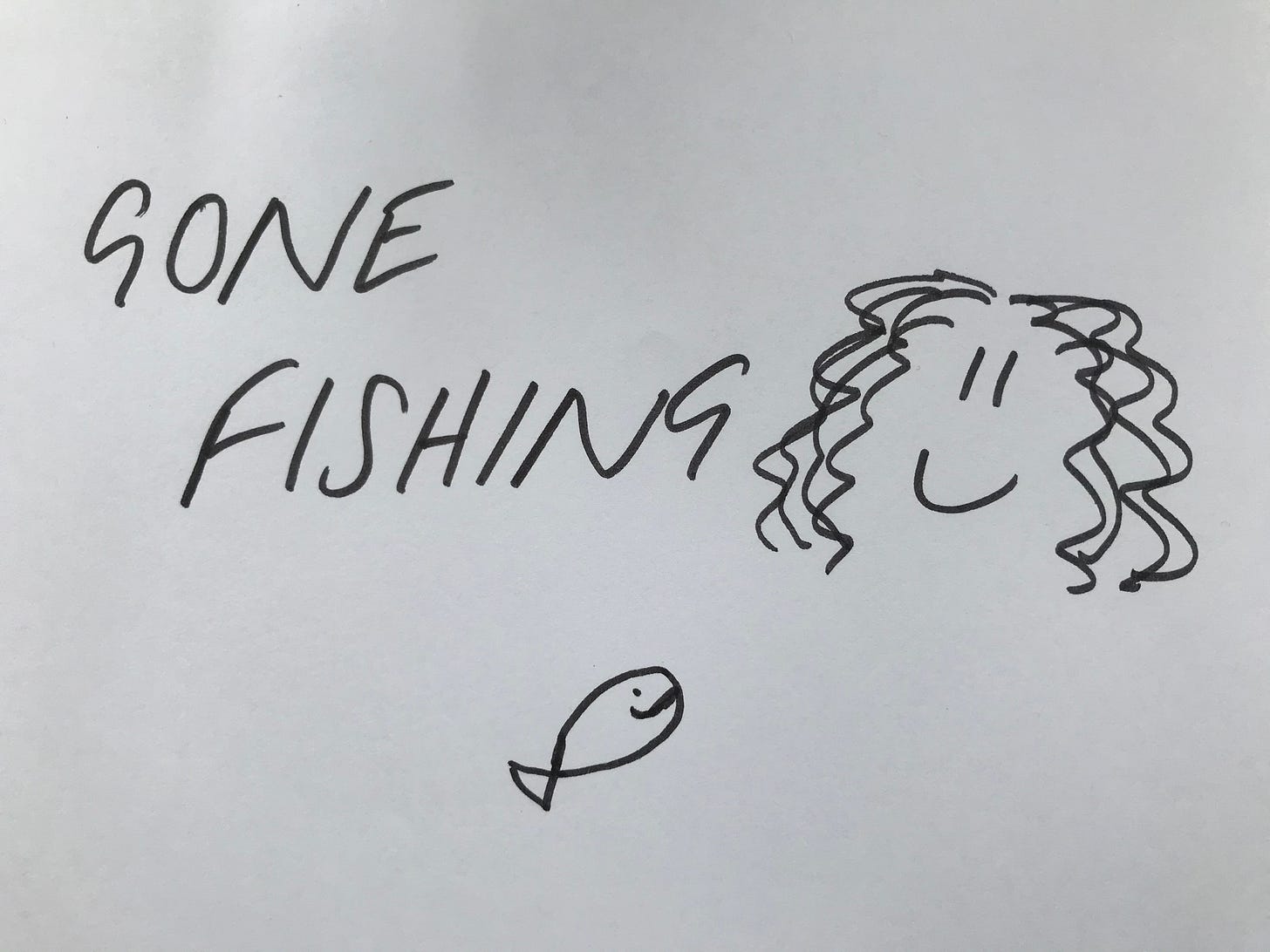 A quick heads up that there will be no newsletter next Friday. I'm taking a few days of much-needed R&R. I debated cranking out another edition quickly before I head off to plug the gap, but I decided that you deserve better. So, you kids are in charge while I'm gone. Be good!
---
The Weekly Writing Reflection
Welcome to my humble writing abode.
Each week I share an inspirational quote and a writing prompt. The idea is for you to spend a moment doing some active reflection through writing. Enjoy!
'Do not judge each day by the harvest you reap, but by the seeds you plant.'

- Robert Louis Stevenson
And your writing prompt (unless you'd like to stick with the theatrical theme, and improvise):
---
What's caught my eye this week
Each and every week I'll share a few snippets of inspiration, thought-provocation and jubilation.
There's more for your ear-holes than your eyeballs this week... this theatre metaphor has clearly gotten under my skin. And who am I to refuse milking a good metaphor for all its worth?
Luck be a Lady, tonight – I love luck. I love it when the right people, at the right time, in the right place align and magic happens. Here's how you can be a little luckier.

A new (wordier) perspective – I stumbled across a cover version of The Strokes' song, 'You Only Live Once.' One of those where the music is playing and you think 'I know this…' It's interesting how changing the delivery puts the lyrics in the spotlight. What happens when you tweak your delivery to put your message front and centre? Give it a go and let me know.

Storytelling mastery – This doesn't have much to do with the theatre or B2B content, but you should definitely listen to this masterful short story anyway. As we start to emerge from our enforced hibernation, I wonder how much more sensitive we'll be to the actions and idiosyncrasies of those around us? This tiny tale is dripping with the tension of strained interpersonal relationships. Short enough to listen to on the commute – or while you hide in the shed…
Enjoyed this post? Why not let someone know you're thinking of them…
---
Notes
[i]https://wfanet.org/knowledge/item/2020/06/17/Survey-Covid-19-global-response-June-2020